Sheet metal bending, CNC pipe bending, sheet metal forming, metalworking with the most modern technologies, on high-quality machines, with the best specialists of our company - for our clients looking for fast, precise, flawless work.
BODOR type 3 kW Fiberpower with tube and hollow section laser cutting option
Laser cutting software
Bodor 2.0 is an excellent laser cutting software. The system processes the typical laser cutting technology parameters.
Flexible layour, creative path editing, on / off guidance, two-part brigdes, co-edges, compensation, smooth, split, combined and auto-sort. The starting height and speed can be specified. As the speed changes, the laser power also adjusts automatically.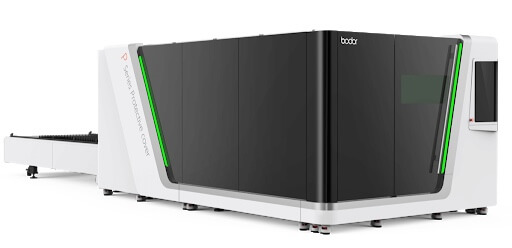 Specifications

Output power laser source: 3.0 kW IPG

Laser source medium: Fiber

Laser wavelength: 1070 nm

Cutting range: 3000 mm x 1500 mm

Cooling: water cooling

Power supply: AC 380V / 50Hz

Stainless steel

Carbon steel max. 20 mm

Positioning accuracy: 0.03 mm

Repeated positioning accuracy: 0.02 mm

Min cutting gap: 0.1 mm

Max positioning speed: 100 m / min

Max cutting speed: 35 m / min

Diode life of the laser source
more than 100,000 working hours
No manual intervention
The automatic focal length adjustment performed by the operating system effectively eliminates errors and mistakes in manual adjustment.
Auto Focus
Can be used with many focal lengths. The focal length is controlled by the machine's control system, which automatically adjusts the focus position when cutting and achieves the desired effect for plates of different thicknesses.
Durable
The built-in double cooling mechanism keeps the temperature of the alignment and focusing parts constant, prevents overheating of the lenses and extends the life of the lenses. The alignment shield and the focusing shield are used to protect the main components.
High degree of accuracy
The perforation focal length is added. The perforation focal length and the cutting focal length are adjusted individually, making cutting even more precise.
Easy and fast
Use Bodor Lightning technique, perforation time is short, saves 90% of perforation time; Bodor Lightning in combination with Bodor Genius has developed a new process so that perforation is not affected by material quality and we get a perfect cut with the best cutting sections, saving gas and electricity, i.e. cost.
When replacing plates of different thicknesses or materials, the focal length of the manually focused laser head must be adjusted manually, which is low efficiency; while the autofocus laser head automatically reads the parameters pre-stored by the system. Efficiency is high.
GBP Pro 26100 CNC hydraulic edge bender
SPECIFICATIONS

4 controlled axes (Y1, Y2, X, R),
with motorized table preload

Compression force 100 tons

Engine power 11 kW

Bending working length 2600 m

Column spacing 2100 mm

Y bending speed 10 mm / s

Y high speed 180 mm / s

Y recurrence wound. 110 mm / s

X axis. movement 650 mm

X high speed 500 mm / s

R axis. movement 250 mm

R high speed 200 mm / s

Table - beam distance. 550 mm

Stroke 270 mm

Hopper depth 550 mm

Plate bracket 2 pcs

Table height x width 850 x 120 mm

Weight approx.6,500 kg

Oil tank capacity 150 liters

Sizes:
H x W x D 4300 x 2150 x 2760 mm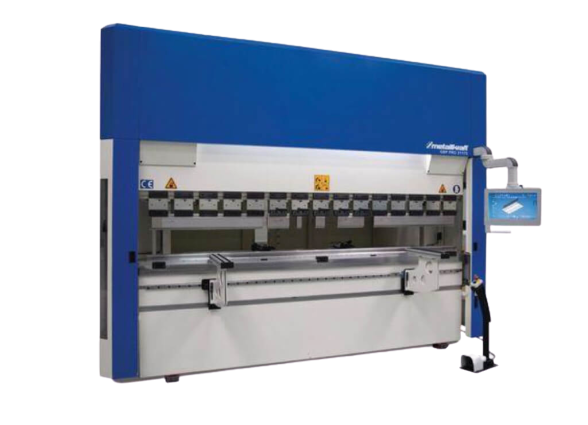 Cybelec Modeva Pack 2D or Delem 58T

Y1, Y2, X, R (Z1-Z2 manual) axes
and motorized table preload CNC controlled

Rugged, low-maintenance four-sided top beam

The position of the upper beam is accurate to 0.01 mm

Linearly guided, ball-spindle-driven two rear bumper X-axis

Rear stop adjustment 650 mm

Fiessler AKAS II safety system Fiessler FPSC safety PLC

The safety device moves together with the upper beam

The side and rear doors can be locked electronically, with a control located on the right side of the machine

The measuring system is on the side C-stand
independent to compensate for distortion
Promecam / Amada
top tool holder

2 front disc support arms running on a longitudinally linear wire

High quality hydraulic components (Bosch / Rexroth)

Large hydraulic tank for constant oil temperature

Mobile, easy-to-use, foot-operated emergency stop

Segmented bottom and top
CNC pipe bending machine CNC 114 R1 (with 6000 mm mandrel)
SPECIFICATIONS

PLC control

Maximum bending Ø114X5 mm

Mandrel length 6000 mm

Feeding with servo motor

Rotation with servo motor

Hydraulic bending

Hydraulic clamping

Max hydraulic pressure 240 bar

Engine power 35 kW

3 colour operation signal light

Timed automatic lubrication

Mandrel automatic lubrication

Max. bending angle szög 190°

Encoder angle measurement

Automatic hydraulic oil cooling

15" PC touch screen

3D simulation

Flat shape calculation

Manual, semi-automatic and fully
automatic mode (without mandel)

Workpiece counter

CE